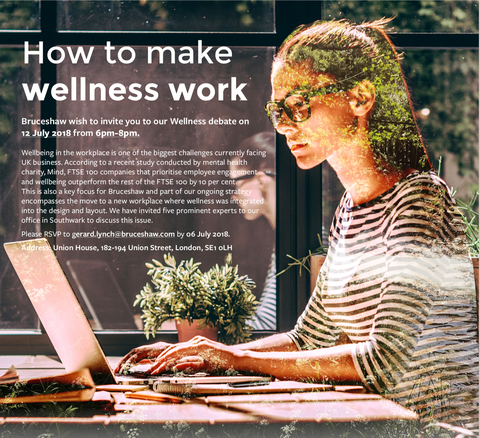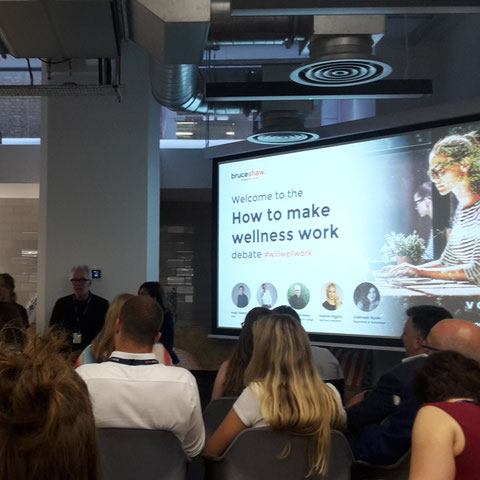 Sustainability, Happiness and the new buzz 'Wellbeing' are the future or is it just a new way to catch attention through an old topic - how to make our surroundings better? This debate was meant to enlighten us on how  'wellbeing' can work while being at work.
The debate and the speakers ...
Wellbeing in the workplace.
Key speakers and experts are Andy Swann [Chair]; Aidan Walker [Mindfulness in the workplace], Phil Hutchison [BDG architecture + design], Sophie Higgins [Nutrition consultant] and Sukhneet Assee [ergonomist at Humanscale].

To me as an architect it is more the question of what can I do, perhaps during the design process, to help make buildings better for the people who will work in them in the future. Don't get me wrong it is always my goal to design the most beautiful as well as functional places. But this approach of 'Wellbeing' outlines some guidelines which are already being followed for new buildings I am working on. 
The debate more or less opened my eyes to the fact why this new assessment is necessary. The world of work is changing and we are in the midst of it all. Not too long ago 9 to 5 was the standard for most people working in offices but the boundaries between work and life are blurring. We are spending more time than ever passively or actively working. Be it keeping track of the latest email chains on our phones at home or thinking of next days to do list while trying to fall asleep. Work has quite often become our life and that is a good thing I think, well, for me it is.  However most of us, and the panelists agreed, we tend to do what we love and engaging with our daily duties beyond office hours just shows how much most people enjoy what they do. Work is not just work anymore, it is a major driver of our well being and, yes, happiness. 
To me it might as well just be a buzz word - architecture has always been about creating great places. The definition of a 'great place' being one that we feel comfortable in and that balances functionality, efficiency, sustainability and aesthetics. Maybe, sometimes the case is lost here, in not reaching the best compromise - maybe focusing on the functionality instead of comfort or wellbeing in its full meaning. I mean where else have open offices come from? The way forward is to learn more about our society and what makes us happy. If we find things at work as well as at home or in our daily surrounding that make us happy, wont we feel 'WELL' as well? I think we would.
For now - 'Well Building Standards' are ...


---