Having a couple of days off to recharge and challenge myself with a bit of quick creative thinking. Walking the little streets of Margate in the UK became an endless feed of potential. However, there was this one property which did not leave my mind. While I just had a quick look around the outside and took a snap with my phone the feeling of the area, and sadly missed opportunities in this area altogether, with empty shops all around, just wouldn't let me stop thinking about it. Maybe it was just the for sale sign in the window or the close proximity to the sea in this urban setting. Anyhow, I went on down to the Turner Contemporary and used the creative / drawing room to sketch out some ideas.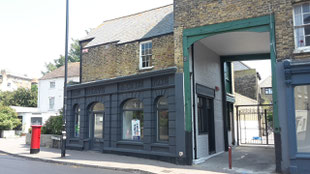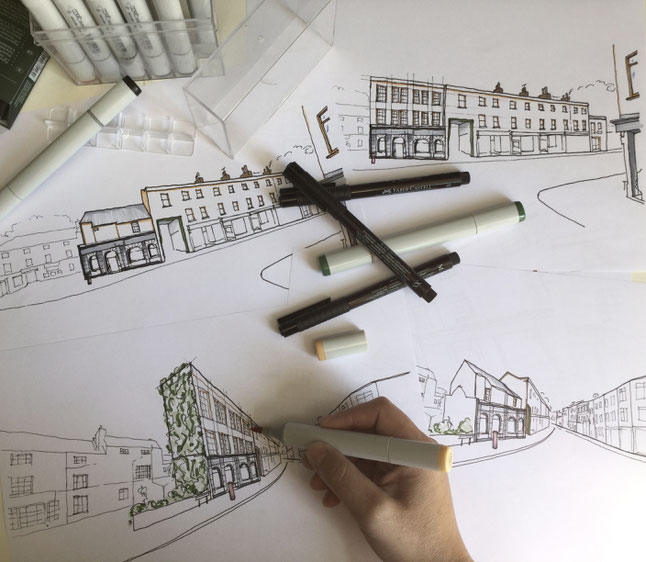 I think the building is currently utterly underutilized and needs updating. While creative shops and residents try their best the buildings just don't represent their spirits.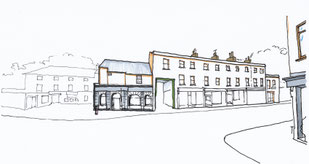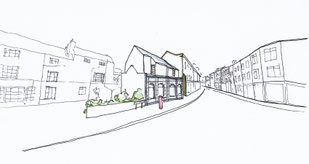 Let's update the existing building while adding value and the not to be missed view to the sea! One additional storey would do the trick providing, besides the already existing shop on the ground floor, residential income on the first floor and an amazing apartment with roof terrace and sea views on top – who wouldn't want that? 
Located in the conservation area the new proposals blends into the neighborhood while giving some green back to the community. The structure would be brought to the height of the existing Victorian row of neighbors. The building behind would not be covered but the small parking which will allow both buildings to look cleaner and stronger.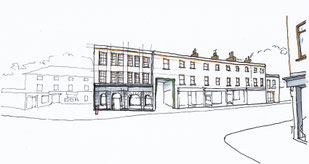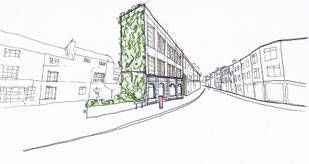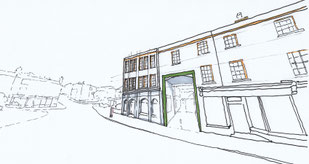 At the moment the building features a brick and plaster wall finish mix towards the parking area and isn't very inviting for both the building behind the property and the small street with quirky little shops. This green wall could now be the eye-catching eco-friendly starting point. I am sure my artist friend would put the ground floor to good use. The big windows and wonderful original store front is just asking for a gallery or workshop space. Well, as I said, the first story would offer space for one or maybe even two small flats or holiday lets. Not so sure on that one since I just had a quick look at it from the outside. And yes, no ideas if the council would be up for it but the roof terrace would be an absolute dream addition to this building and second floor flat. Excuse my quick sketches but I thought the potential was worth sharing. What do you think?
Heidi
---