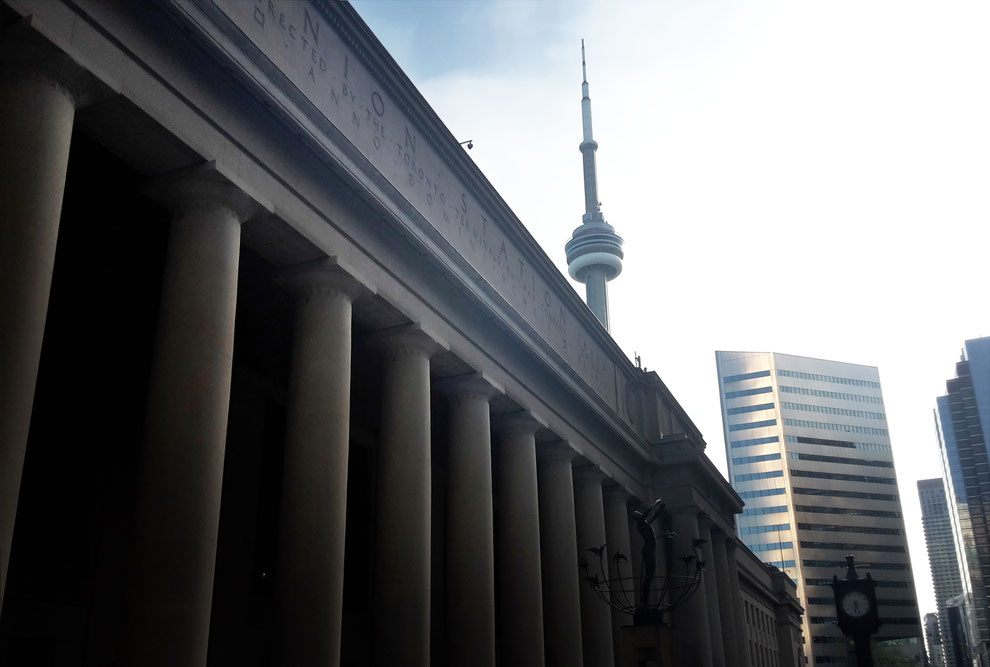 About 4 and a half years ago I started working on this amazing project as part of the architects team at Wilkinson Eyre which will add a landmark to the skyline of Toronto. Location wise it sits directly opposite Union Station, pictured above. My team and I were first of all looking after the design and detailing of the facades and tower core. This impressive project is now under construction, the ground-breaking ceremony took place last year and the structure is now finally coming out of the ground - exciting times!
Anyhow, I have been on the site even before all that and the former inner-city parking lot, shown on my photo from Bay Street on the left, made way to an incredibly busy construction site. After digging into the ground to create the parking levels, loading bay and associated ancillary spaces the tower core is starting to shape up and will rise more than 200m above the ground. The park above the train tracks also starts to appear. There are some major steel construction works taking place and all of this has to happen during the night to allow for the operational railway during day time. Well, I wont bore you any longer with such details, it's just incredible to see the building grow after all that time drawing and developing the details, most of the time on the other end of the world! Thanks and 'hats off' to the awesome urbantoronto.ca crowd discussing this project with site photo updates almost every day. Special thanks and credit to Gizmo who has taken the picture below left.
For more check out cibcsquare.com!
Heidi
Clip published by Wilkinson Eyre on 14 Sep 2017
WilkinsonEyre has masterplanned three linked sites of 33,000m² for commercial use, adjacent to Union Station in Toronto. The masterplan provides twin 250m-high commercial towers positioned on opposite sides of a rail corridor and linked at high level by a sky park.
---