Over the past couple of years this little word has gained quite a bit of attention and there is no way of avoiding it. From advertising to method statements – everyone wants to show off their green side of thinking but what does this word really mean and what has architecture and the building construction got to do with it. And maybe even more so what can anyone thinking of building a or even daring to do a self-build home do.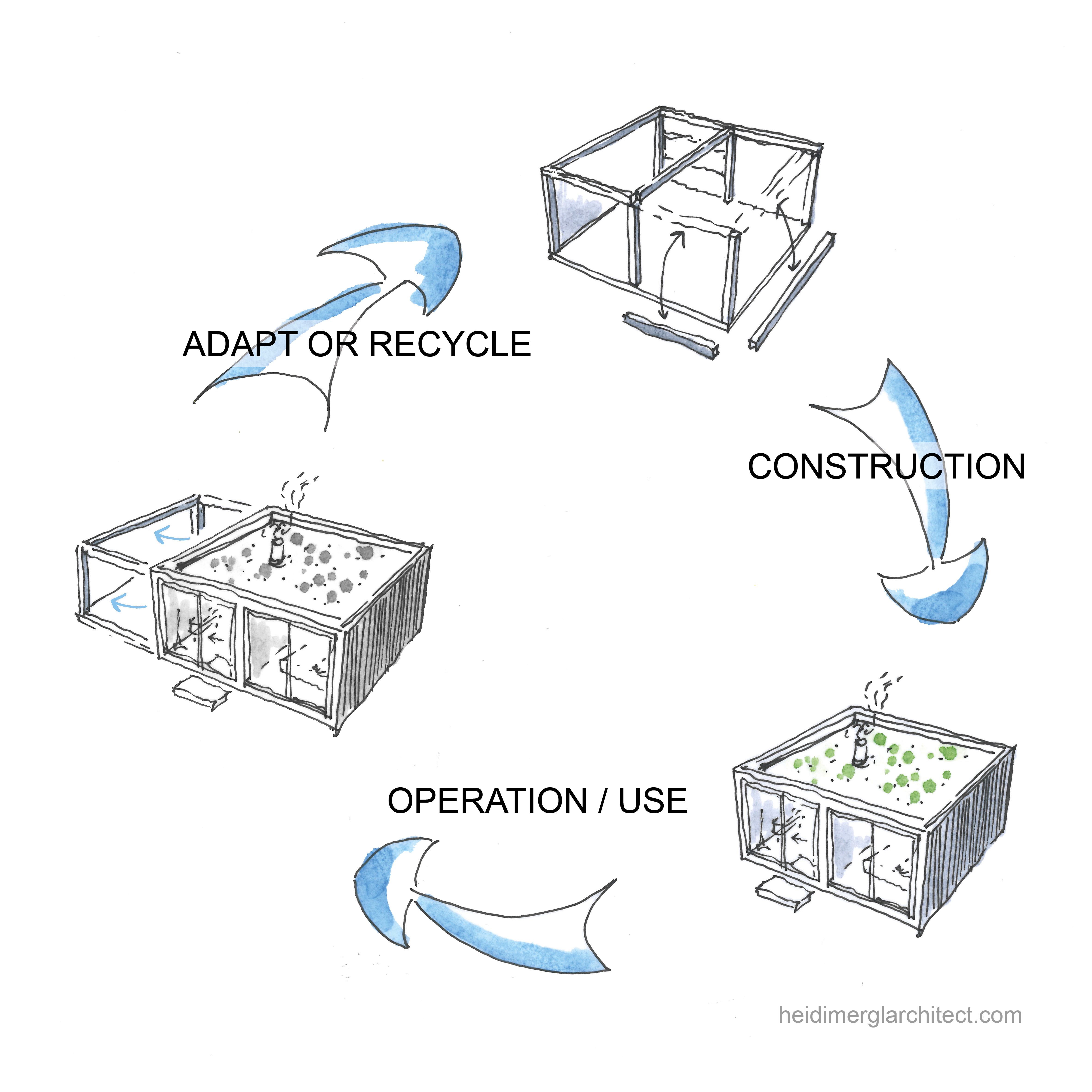 Just looking at the definition of the word sustainability it is defined as the 'avoidance of the depletion of natural resources in order to maintain an ecological balance'. Building construction accounts for more than 50% of the natural resources used and as such it is important to use only as many resources as you really need and ideally creating a circular life cycle where all materials used, are already re-used and can be recycled once no longer needed. In this life cycle [illustrated on the left] buildings are designed from the beginning to end with sustainability in mind – starting with the materials used in construction, ensuring that the design reduces the energy needed during operation to a minimum and thinking ahead so that elements of the building can be recycled at the end of its life. Maybe the whole structure could even be re-furbished or adapted to gain a new purpose for more generations to come. 
We architects are involved in all three steps and as such have the responsibility to look after that lovely planet of ours. And this is not something that moved to the front of our design agenda recently, it has always been integral to the design process but now there is a word for it – sustainability. And there are many things that you can do to increase the 'greeness' of your building or home. Some are really low tech and low cost but need to be thought of when picking the building plot or developing your design. Others are heavy on the building services side and require a bit more investment upfront. Over the coming months I am going to share some tips and tricks relating to making the most of sunlight, energy efficient building forms, using thermal mass, smart materials, renewable energies and so on. You might find these useful to do your bit to save our planet and in the long-run some money as well. 
#01 First up – design your building with sun and daylight in mind!
Plan ahead and think about the spaces, for example in your home, to reduce energy cost and do something good for your soul. We all have a natural craving and need for daylight so setting up our home to make the most of the natural light is something we should all aim for. And you do not need much to do so, just a bit of time! If you have a home already or a building plot in mind spent some time there over the course of the day to see where the sun rises, where it is highest and where it sets. This way you can figure out the orientation without any tools whatsoever and get an understanding of the surroundings, like trees and neighbouring buildings, that might cast shadows. Once you have done so you can arrange your internal layouts to go with the sun and your preferences. Most of us prefer morning sun to bedrooms and private spaces while catching as much of the daylight left in living and kitchen spaces in the evening as designed for the modern open plan home in my last blog post [click here for more]. However that does not mean you like it the same way and you might have additional rooms to allocate – where would you have your home office for example? Are you more of a morning (facing east) or evening (facing west) thinker? Or do you prefer warming midday sun (facing south) or prefer no sun at all (facing north)?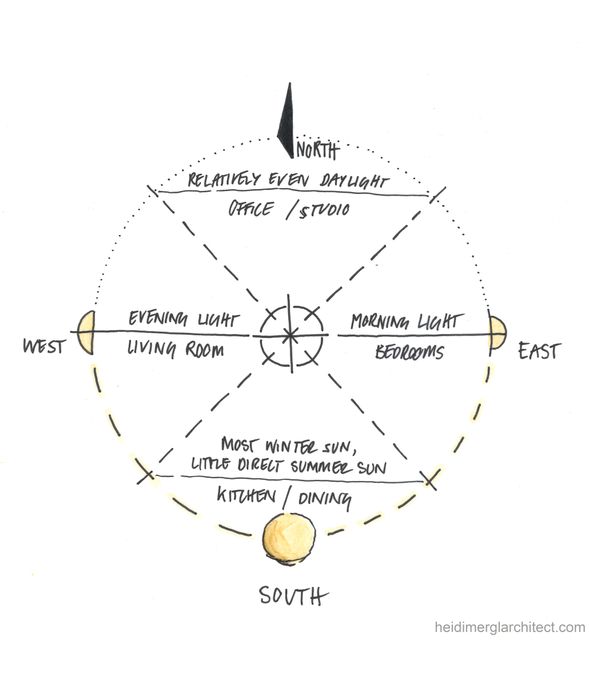 Well, I don't know about you but I love a good view out and the daylight that comes with it, really lifts my spirits and gets me going for another couple of hours in the office.
On that note – my lunchtime is over now, have a great weekend all, 
Heidi
---