Sunshine, not just natural light but also amazingly powerful heat!
Yes, it is that time of the year, wind and weather is raging outside and we sun lovers seek to get some last warming rays of sunshine. We talked already, in one of my earlier posts, about natural light sources and I want to revisit this topic and add, how not only light but also the heat generated has an impact on our living comfort and how it can help to make our buildings more sustainable.
I know, I just told you it's fall and winter is coming so not that much heat will be generated by the sun, or could it still be used to keep us warm? Well, let me show you how we can make it work even with little sunshine during the cold and 'dark' times of the year.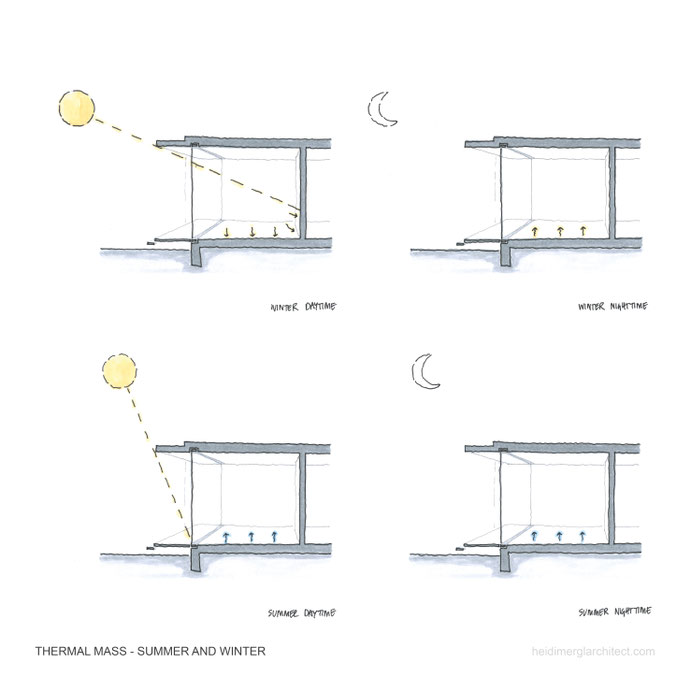 Our buildings can make very good use of this little yet powerful sunshine even when it is cold outside. A couple of east, south and west facing and nicely insulated windows will do the trick of letting all the warm sunshine in, but more importantly during winter time, not out.
If you want to keep that warm and cozy feeling for longer make sure your internal spaces have some thermal mass that will soak up the heat and give it back to the room overnight.
Such a thermal mass could be a feature brick wall, a stone floor or modern polished concrete, whatever you fancy really. You could even recycle some plastic bottles, fill them up and build a room divider out of it. Surely each material will have different impact in terms of its efficiency but the overall thought is as indicated in the sketches to the left - let the sun shine onto it during the daytime and do its magic by giving back warmth over a period of time to follow [generally when the sun has gone down i.e. at nighttime]!  
I am sure you all know the best bit – it all works also the other way around. Which in summary means, that in summertime the thermal mass stays cool for longer - stone will have here the greatest impact, just think stone flooring in an Italian villa in the south of Europe.
As the sun travels a different path during the summer when compared to the winter, as shown in the sketch to the left, we can cleverly design our buildings to suit the angle of the sun. So, during winter, when the sun is not rising up as high the rays reach deep into the building and we can soak up that cosy heat. Whereas for the summer time we prevent some intense sun rays from entering your house altogether by adding an overhang or shading devise to the outside of our building. So when the sun rises up higher during summer time, just as illustrated above, the building roof stops the sun rays heating up the internal floors – a great way to keep you cool in summer with an all passive design, no need to spend any money on air conditioning.
Surely in most circumstances this heat or cooling source wont be enough but it is a vital part of a sustainable home and will help in any case to keep living costs down.
Good luck chasing those rays of sunshine this weekend,
Heidi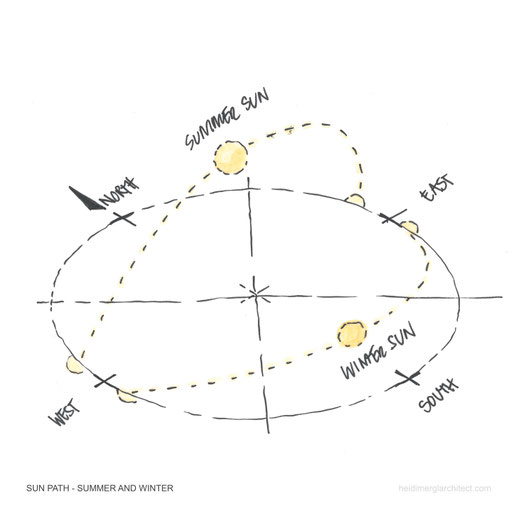 ---
This could interest you too ....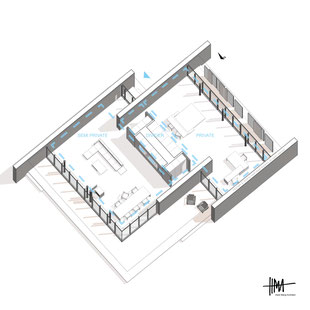 ---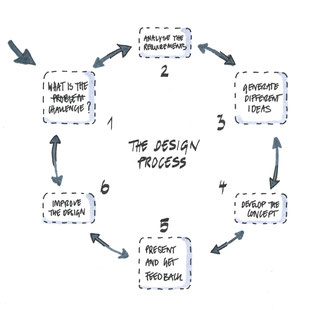 ---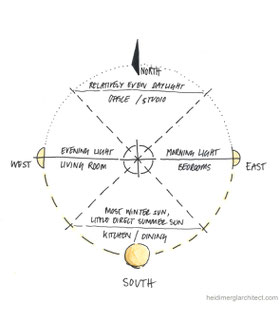 ---