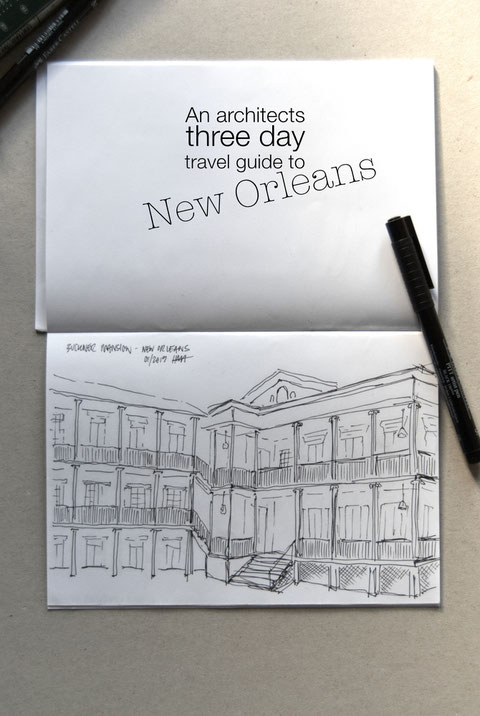 On Day 1 take it easy, give yourself the chance to settle into the city by spending some time walking the residential streets of the Garden District. To get there take a trip down memory lane and ride the historic streetcar towards Tulane University. Get off at Jackson Avenue and walk south to take in this little masterpiece – the Buckner Mansion [ sketched above] and its lush gardens which will take you right back to the 1800s and there are plenty of other beautiful homes to see here, just explore the area wondering west as you see fit.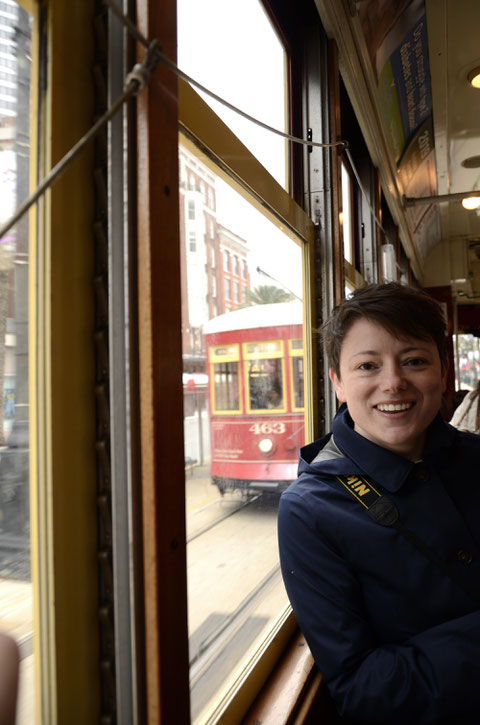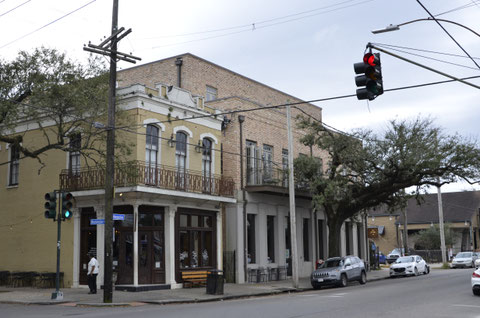 Inspiration comes from everywhere but especially from travelling so here are my recommendations for spending three days in New Orleans. No worries, the city is marvellously relaxed so this is more or less a laid back travel guide for design and architectural enthusiasts, but who isn't?! 
New Orleans is worth a visit no matter what season, the climate is pretty mild even during the winter to spend some leisure time in the 'Big Easy'. We went there in January and while a pullover was good to have it was fantastic weather to explore and wander around. 
If you prefer the big buzz with loads of people though, go for Mardi Gras or Jazz Fest, but there is plenty to see without an additional event going on.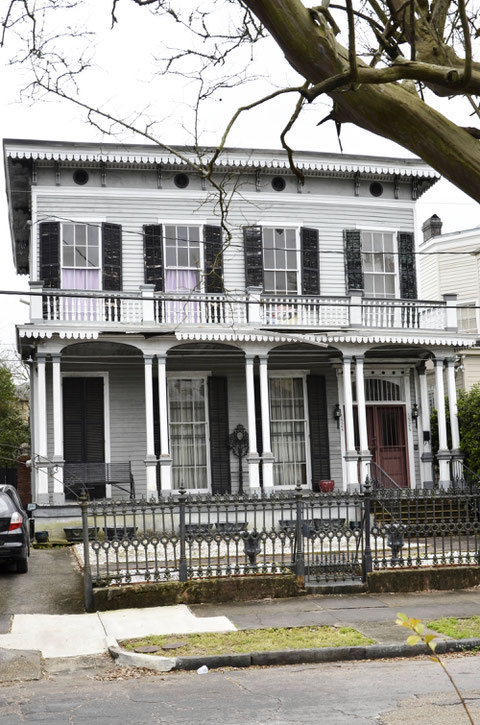 For some light refreshments and browsing the local book store and art gallery check out the little shopping center on Prytania Street, opposite Colonel Short's Villa. If you prefer a proper lunch head down Washington Avenue to the famous Commander's Palace or take in the sights of an above-ground cemetery which is all close by. After that head south to explore the independent Galleries on Magazine Street. There is something for everyone here – 2nd hand vintage clothing and records, home décor stores, local artist studios and shops as well as bars and restaurants – the choice is yours.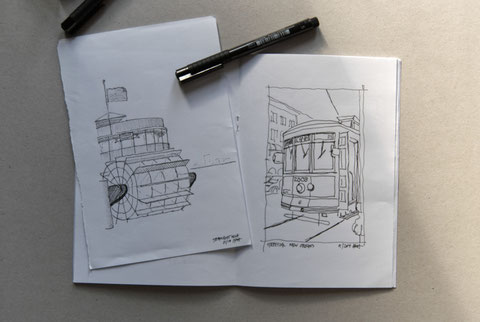 Start your 2nd day with a 'moon' walk along the Mississippi River. The Moonwalk Riverfront Park is where streetcars and steamboats meet. If you feel like it take a ride on the river as well. If you fancy just to cross it, you can just do that by taking the ferry from Canal Street to Algiers and back, a straight forward option and opportunity to see the city from the water.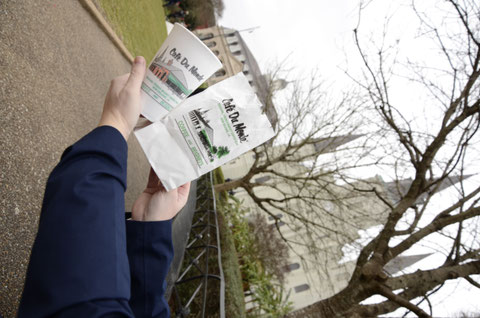 Once you are back on dry land be sure to get yourself a well-deserved 2nd breakfast at Café du Monde. We preferred to take our beignets and hot cuppa away to enjoy them in the green Jackson Square in front of St. Louis Cathedral [sketched below and pictured left] but you could also just 'eat in' and enjoy the big band brass music playing live for all guests.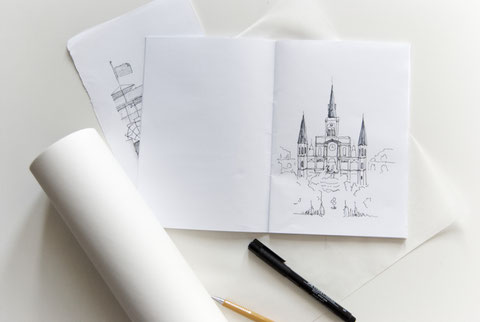 All filled up and ready to go explore even more? Then it's time to explore the world famous French Quarter of NOLA – lined with wrought-iron balconies these little streets sit in the typical rectangular pattern and you will find that locals just put up some hand painted signs to stop cars here and there for either some stalls or a big band playing in the street so take it easy and join the fun and maybe even get your very on Jazz record as a souvenir.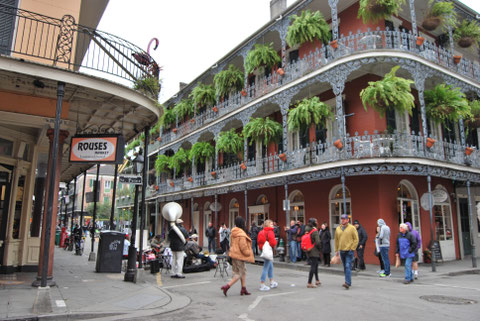 On day 3 its time to explore yet another side of New Orleans, you see every quarter in the city has its very own atmosphere. The warehouse district is sort of the down town of New Orleans where high rise offices meet historic warehouses that have been converted into art galleries and boutique hotels.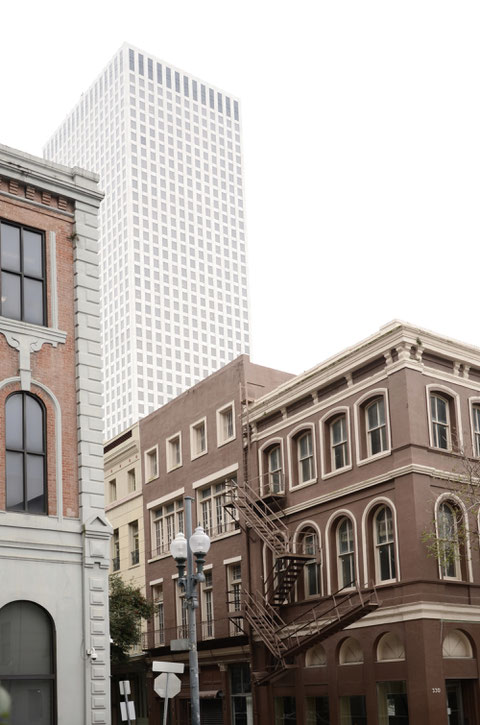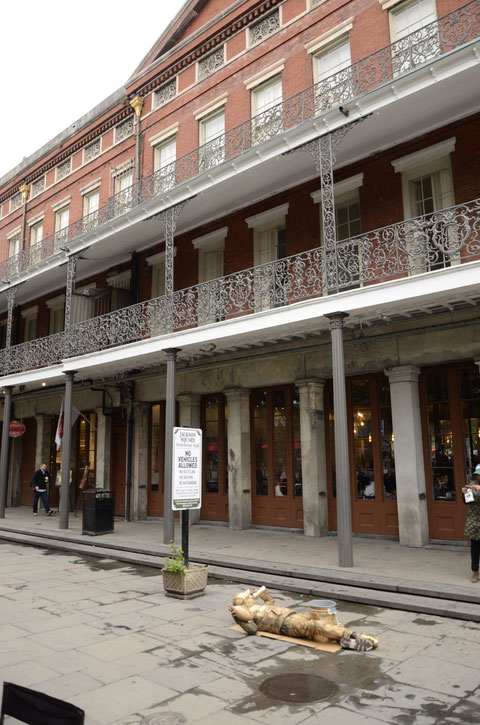 Follow what you see and takes your fancy to explore this part of town and maybe complete your stay in New Orleans marvelling at the sparkling façade of the superdome - below is just one overview picture even though I took plenty more. I just quite like how the light reflects on the metal facade emphasising the curved nature of the build form, check out my Instagram feed for more ;) Anyways, there was a game on when we were in town, the city was filled with fans of both teams, all dressed up  making it something special. ... 'Who dat?'...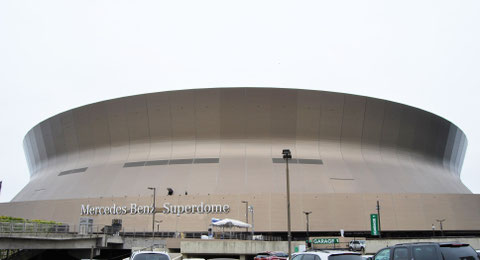 Well that's it, we loved to explore this calm and delightful city and wish you all an enjoyable trip too!
See you soon,
Heidi 
---
This could interest you too ....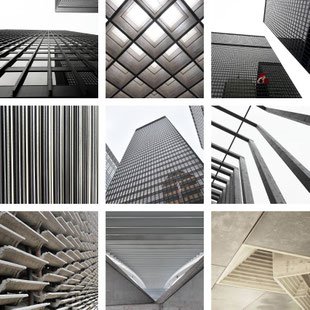 ---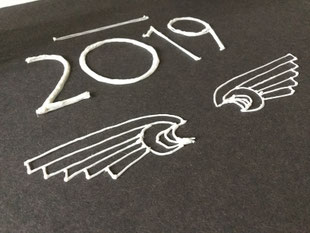 ---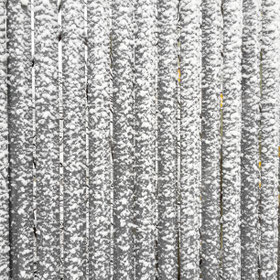 ---