The other day I came across an article about off the grid houses around the globe and it made it obvious that one question to ask when starting to plan a sustainable or even off the grid home is what is your surrounding climate like and how many windows do you 'really' need? Total common-sense, right?! Well, that might be but in our choice heavy times we often have too many windows and technologies available, like air conditioning units,  often allow us to ignore or overlook some of those things. Anyhow, I thought it is just a right fit to explore, compare and maybe admire some of those houses and their climate adjusted solutions. After all it would be a great brainstorm to further the thought of my end of last year post of 2018 and maybe even I can take something from it for the not just yet fully thought through independent cabin in the woods design.
Below is a selection of not so small off the grid homes, that's right, I am not so much thinking small footprint homes right now but rather energy efficiency. The houses I have selected to compare range in style and construction materials and they are all one of a kind to be as independent and energy efficient as possible. I mean, a barn in England will look different from a Conservatory House in South Africa and a Converted Stone Stable in Spain is nothing like a Hill Country House in the States [all pictured below] and for good reasons . They are after all located in different parts of the world and as such work in a very different climate. And that really is the beauty of architecture – don't you just love it?! no, just me - creating buildings that are as unique as the local circumstances making the most of our natural resources.
Looking at these houses I notice that they all have a varying degree of glazed windows – the House For All Seasons in China [pictured right] has no obvious ones really. Nevertheless this house is light filled as they are all concealed behind a sun screen that is wrapped around the whole house and the external amenity spaces. The screen is made of local bricks, truly eco-conscious if you will, and it provides shade as well as opportunities for natural ventilation, air flows are maybe even directed, in this fairly hot climate.
I found the alternative is to have as many windows as you like without any shading whatsoever, a fully glazed building element so to speak like the Conservatory in Pretoria. There is a clear agenda behind this approach - opening up the inside spaces to the magnificent views all around for once.  But also, all of this is easily viable, even in a hot climate, if you ensure that natural cross ventilation is allowed through the building conditioning the space without the need for any mechanical ventilation which would use energy or even return artificially prepared air. In addition this glazed buffer space between the other two building parts acts as a buffer during the winter time, sort of pre-conditioning the air used to ventilate the main buildings.
The opposite extreme to heat and sun is probably too much cold. The Lochside House [pictured left] is coping with these extremes but having limited openings evenly distributed to have sufficient daylight. This will not just help to keep heat in but also to catch most of the precious sunlight [link]. Most of the external walls are solid with a lot of insulation to withstand the rough winds and cold climate in this northern location close to the sea.
 Well, maybe one has to find a balanced solution for loads of hot sun as well as rain. The off the grid guest house, Maui House or Camp Baird [pictured above and right] have used large roof overhanging to keep the hot sun as well as the rain from entering while allowing to use the spaces available inside as well as outside. I see calculations going on here to have just the right height and size of roofing to build this to catch all the warmth of the low winter sun as well as providing the desired summer shades. Not to mention enough overhang to keep the heavy downpours from impacting the outside living areas with a roof.
The amount and size of windows as well as their interface with other building elements, like the roof or shading devices, define how much  power from the sun is allowed into the house. Solar gains like this can be something every sustainable builder will be really keen on, especially if you are living far north. However in hotter climates this heat can be quite undesired and the above are just a few examples to control our internal spaces without the need to install and maintain an undesirable air conditioning unit. Maybe it is also worth noting that glazing is not very good at keeping heat in [even though triple glazed or even quadruple is on the rise, think twice, it is not just expensive but also not truly sustainable] so if you are living in a cooler climate you might want to have more solid walls with insulation to make sure that all the cozy warmth from your fire place does not just evaporate and that you only need a minimal amount of energy to heat your place in the first instance. Ok, ok, I am not going any further into design details after all building a house is always a compromise and a question of taste, must haves and nots and these ideas and solutions are just some inspiration to go by when planning and designing a house. 
In any case I hope this little summary of comparing some solutions, helped you to save some time and inspired you as much as I had fun writing and sharing a few of those things I am reading to stay up to date with inspiring world architecture.
Best, Heidi
Note - all images are with rights to their respective owners, I found them here. Thank you.
---
This could interest you too ....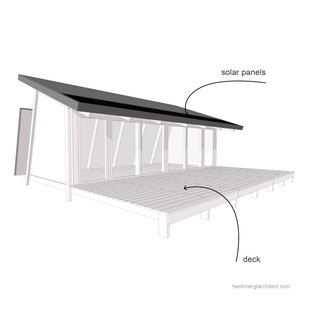 ---
---
---