How to create a successful small space or how to live happily within a tiny house?  I have shared many ideas about cabins and small spaces as well as effective ways of room separations with room dividers but the internal layout and multi-functional interiors, especially for small footprint homes are always a challenge. Of course there is one luxurious way which one can choose and that is to go professionally custom build. Boom.
Just kidding, sure some parts will just need to be custom in many cases as most small spaces are tightly tailored to ones needs but that does not mean you need to outsource. Sometimes a do it yourself or a mix of prefab and bespoke can help take control of resources like where things come from and options of up-cycling as well as cost.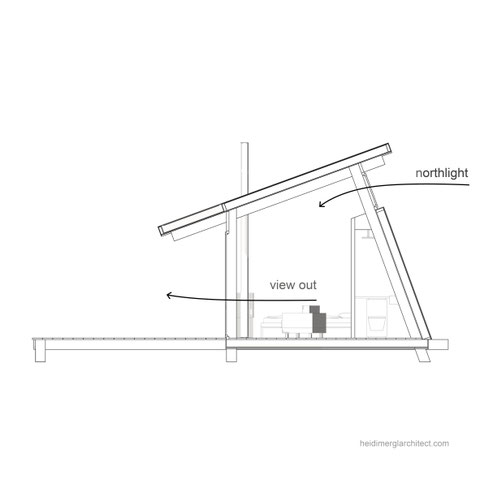 Your feedback to my Happy Micro Living And Its Design Possibilities post was wonderful and since I promised I would look into some interior options I feel it is about time to get on with it. Sorry, yes architect here, not interior designer - so my focus will be on layout and light rather than the possible colours and materials [for now]. I set myself the goal to keep sustainability and off grid living in mind while designing. [little hint towards the design process you can click here ;) enjoy]
Since this micro living space could be in the city as well as in the country side, or on a remote island for that matter, functionality and independence should show within all aspects of the design. First thing to consider is therefore the light and possible views. This should have come up when you decided how to place your building on your site as well and most of those reasons still apply. Now however it is the goal to not interrupt or even obstruct these connections to the outside with furniture and build in elements but rather to enhance them.
Little details like the angled 'window sill', as shown in the section above, is actually an inside wall/ceiling to allow all the beautiful north light to come in. This appears to be a small detail in the bigger picture but can make a whole lot of difference to the feel of your internal space. It is after all the best light for all artists and creatives and is good for our soul too.
All tall objects are going to be bound to that side in this design and all other objects in front of it going lower and lower to enjoy the view out. This way the interior layout makes best use of the inclined roof/back wall and allocates all the supporting spaces along this facade. 
I illustrated a deck outside but it could also be a walled garden, especially if you are in a city. Another thing, I was considering, was where to position the fire place. A wood burning stove is still one of the most sustainable heating forms and therefore a must have from that point of view but even better than that it also adds a luxurious touch. Judging by my families preferences, we love watching and listening to the fire, we would most likely want it within the view area as sketched above. An alternative could be, if your space is smaller for example, to have one stove for heating and cooking. Of course that would change the location for practical reasons and one would most likely move this into the kitchen area. But let's just say this house here has solar energy for the oven and hob and so on. 
All secondary spaces make the most of the lower headroom along the north facade. To allow for the skylight at high level the rooms on this side are a bit lower than the main space but more than efficient for the kitchen, WC and shower as well as storage behind the fold down bed.
The folded bed, illustrated right, helps to create a multifunctional room. I think multifunctional interior objects are just an essential for small spaces. It is not just the bed which folds away and gives space for an area to entertain and enjoy life when not sleeping but also other objects. Take the chairs, for example, we love to have a cosy spot, so a chair which unfolds into a guest bed could be just right. A moving kitchen bar can be rolled or folded out when needed and put back when space is required for other things. I think you get what I am getting at, small living is in many parts creative living. 
I think it is more pleasant in a small space when you are able to declutter it from furniture in easy moves. This is an easy one most of us could live with. It would just be integrated into your morning bed making routine, maybe?!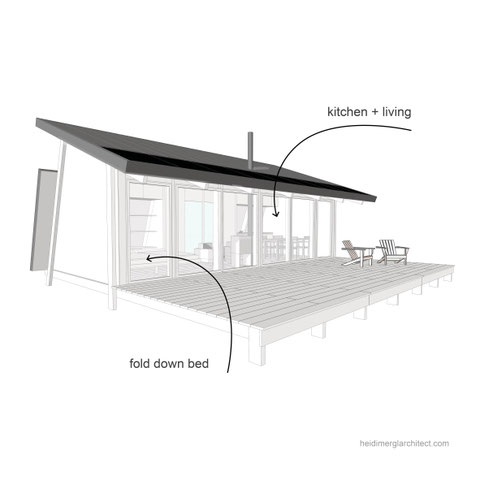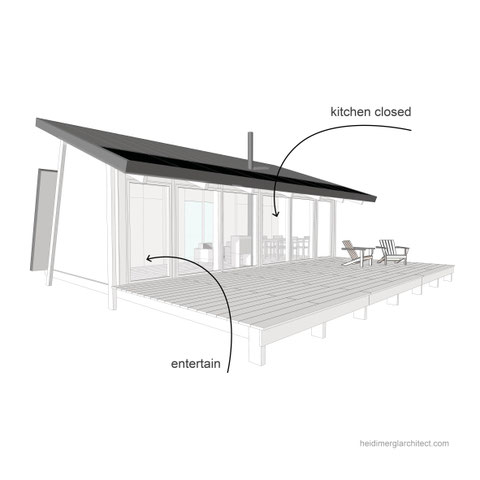 The building structure is made up of 7 timber frames that forms the basis of the design and my interior vision is picking up on that. Therefore, I illustrated [below] two structural bays for each of the key spaces in the house. So that the bed/entertainment is using two bays on one end of the building and the dining/kitchen is allocated on the other end with the two remaining bays used for the living area and WC+shower right in the middle. Of course you could change this but I feel drawn to this as I like the kitchen area a bit further away from my bed while the short way from dining/kitchen to the living area is just perfect for me. In addition having the WC+shower close to the kitchen keeps all water requiring services close together which could help keep building costs down.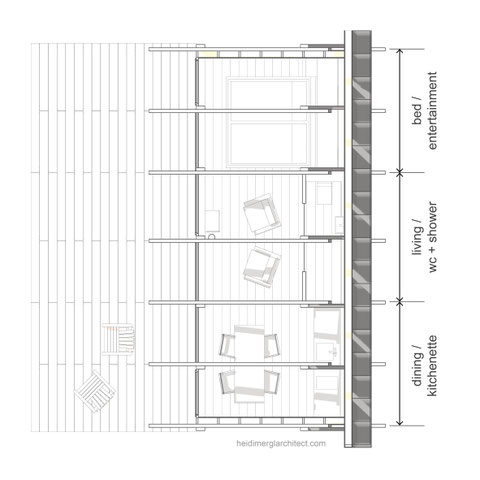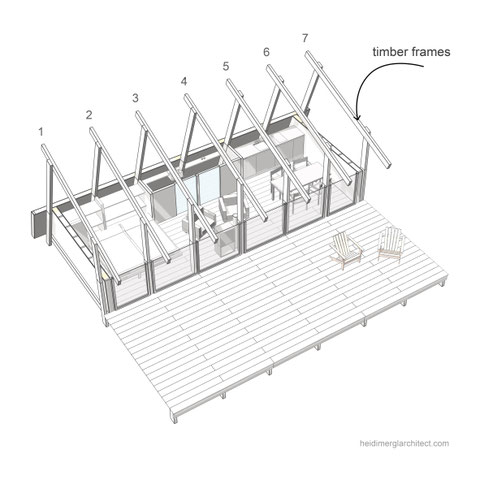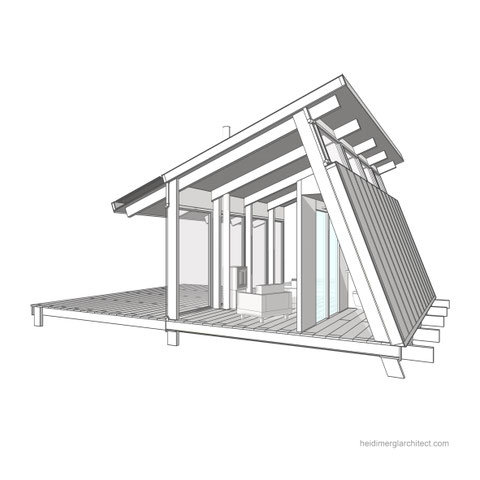 On that note, you have probably wondered by now - the bathroom would be without a window? Well, not necessarily. My design does not allow for a direct window to the outside at the moment but I would invite to use glass doors as well as having a clear ceiling to make use of the natural light. Being innovative and not wanting to use electrical ventilation in this case one could use opening windows to the ceiling as well as one from the north facade. Alternatively we could extend the bathroom walls towards the ceiling using glass. This way you allow all the light to spill in while associating two windows in the facade to the bathroom but there are many options and the design can always be finalised depending on your preferences.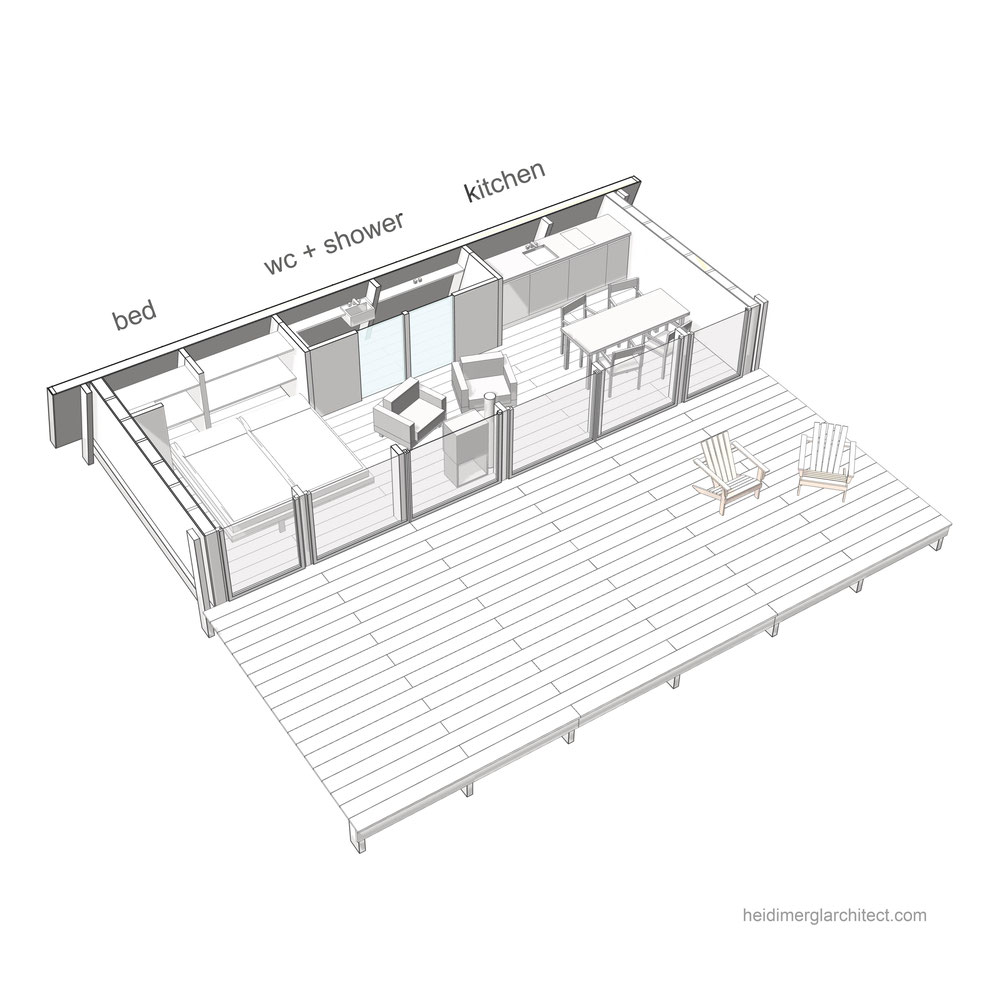 I feel this could be the layout for this space, what do you think? I will have to look into solar panel options as well as rainwater use for this project too but as for the rainwater, I am still on this project too. 
Best, Heidi
---
This could interest you too ....