Passivhaus is truly something to consider not just for a new build home but also when looking at a renovation project. It can not only be good from a sustainable point of view but also money wise as it can help keep running costs downs. So what are the key aspects of a Passivhaus and why am I as an architect for it?
First off lets think high performance envelope. Floors, walls and roofs keep the cold out and make sure rainwater doesn't come in. But you are right, most buildings do this more or less successfully, the Passivhaus does this particularly well though by sealing every little air gap making your structure air tight and wrapping it tightly with excellent insulation to make sure that none of that lovely warmth in our home escapes to the cold outside. Just have a look at the illustration I sketched out to compare wall thickness and other things.
So once we have this brilliant enclosure created we need to adjust our thinking a bit as comfortable living in a Passivhaus does include not opening windows. This would lead to uncontrollable gaps and loss of warm air. Nevertheless a modern interior and fantastic living conditions can well be created. Fresh natural air is provided using a mechanical ventilation system and a heat recovery is integrated into this. This way colder air coming into the building is warmed up using heat exchange before entering your living room. Wait for the best bit, filters are also utilized, keeping pollutants out so no need to worry during hay fever season and all the bugs stay outside too. The only thing, someone has to clean those filters.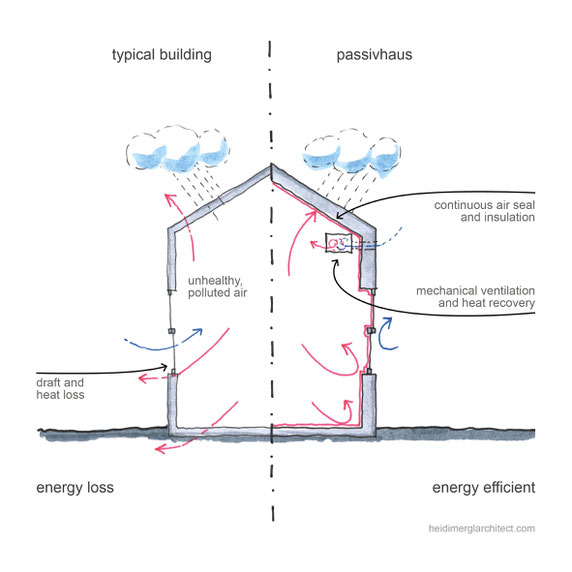 Combining this approach with some of the other passive design measures, like making the most of sunlight and daylight and using micro-climate to your advantage, means that you will only need very little energy to keep your home going. And you can probably even generate that little energy required on site yourself using solar panels becoming quite independent. 
It is not a truly new approach, many countries already are mastering this concept and stunning architectural works have been created. Take the following few, all linked to their source with more project details ....
I think these are all exciting architectural works each in its own right but most of all each is reaching the goal of being more sustainable and efficient than houses build to our common standards. Maybe it is time to up those standards? 
Working on my own little family project this bank holiday weekend, what are you up to?
Have a good time,
Heidi 
---
This could interest you too ....