Over centuries London's Skyline was dominated by church spires and St. Paul's Cathedral in particular, however since height restrictions were lifted in the 1960s a number of high-rise developments have changed the city for centuries to come. The skyline changes in a fast pace since 2010 and my first graphic goes back to 2012. It was the one for one of my first short guest blog posts I did back then. Anyhow, below is the latest with an easy graphic based on the information provided by the CTBUH [Council on Tall Buildings and Urban Habitat].
Some of the first most notable tall buildings in London are Centre Point and Tower 42 followed by heavy developments in the docklands and the city.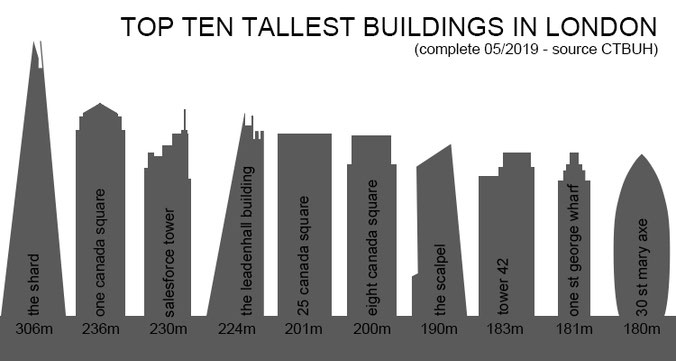 30 St Mary Axe, commonly referred to as the gherkin, is well-known all over the world due to its iconic shape and geometric design. Some of my outside and inside photos below, yes, I am a fan, you got me there, and I got a bit carried away with some of the details...
But as the graphic above shows this building risks dropping out of the top ten tallest buildings in London soon.
Being in the tenth spot today this has been inevitable for quite some time.
As illustrated in the two graphics to the right the gherkin was still very much in the middle of the group in 2012 slowly being pushing towards the end by 2015, while another loved and iconic London structure - the BT tower - has already been displaced and disappeared from the list indicating the trend of buildings going taller.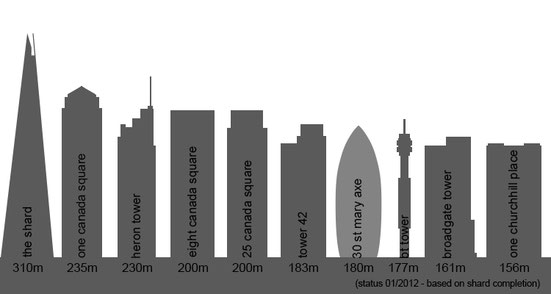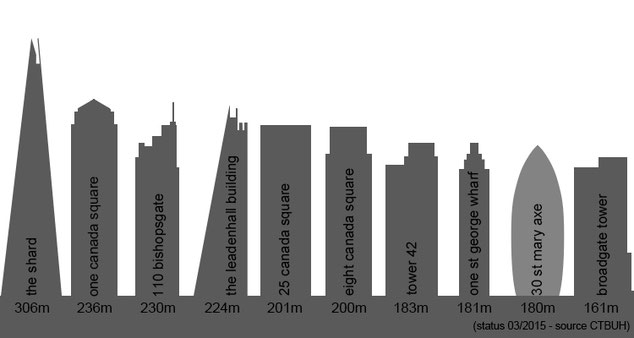 Finally 2019, for 30 St Mary Axe the reality looks quite similar to the BT Tower though. This skyscraper has disappeared completely from the top ten already if we take all the construction sites in London into account.
There are more than 500 towers in the pipeline and the ones highlighted in a lighter grey are currently being build and well beyond the 200m mark, as such they change this graphic and London's Skyline quite considerably. Maybe it is worth noting that at the same time discussions are being held about the impact of these structures and buildings and if new restrictions are required. 
 I am not sure if this is the case or not all I know is that I love working on good architecture and that it can help make things a lot better for a city. If you are interested in more details about the architecture of skyscrapers check out my first part here second will be up soon.
Best, Heidi
---
This could interest you too ....