Small homes are most likely the answer to the shortage of housing and it is not just an architects topic anymore, it has rather become an open discussion. While some countries find solutions in tiny houses others build multi-functional sleeping and living cubicles. I am not sure about either and I am hoping to find luxurious small and smart home solutions - homes with functional design, driven to achieve effectiveness and sustainability. This approach constantly draws me to potential solutions like prefabrication or wooden structures. Today's design inspiration for a one bed house of the future is based on a prefabrication concept and a small building plot. For this project timber prefabricated modules as well as reclaimed shipping containers could be used to build it.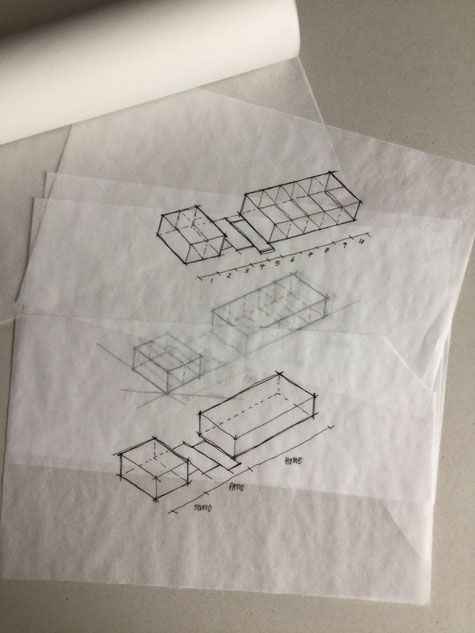 Prefabrication comes with repetition and this is one of the key stigmas that it all looks quite the same but I would like to differ and have sketched out some ideas with pen and paper. A simple line arrangement is the starting point for this design. The rectangular modules or units and their design possibilities intrigue me. To keep the design fairly minimal I only intend to break that line for the courtyard. Yes indeed, a bit of luxurious, maybe even mediterranean flair. 
A home is not limited to the internal spaces of your four walls, especially during the summer months it is very easy to extend your living room to the outside. And if you want to achieve this all year around you can take it a step further and set up a studio in your garden to go with your house.
These modules, let's say for these prefabricated buildings, are roughly 6 meters long, 2.5m wide and 3m high and i have played around with their arrangement to set up a comfortable one bedroom home. The concept of this as indicated on the sketch to the left is based on the footprint of 10 modules - five for the home, three for the patio and another two for the garden studio.
As mentioned above they are all simply set up in a straight line for the buildings themselves, however the patio breaks up that sterile arrangement creating various outside spaces that can be filled to your liking. Here it is all a bit more playful, the pockets to the sides could be left green to further connect your outside space with nature or you could even plant a tree here to give you shade in summer. Maybe you would like to incorporate some raised beds to grow your vegetables. Quite a few options here for the outside space before we even get to the final piece of the concept sketch - a garden room or studio.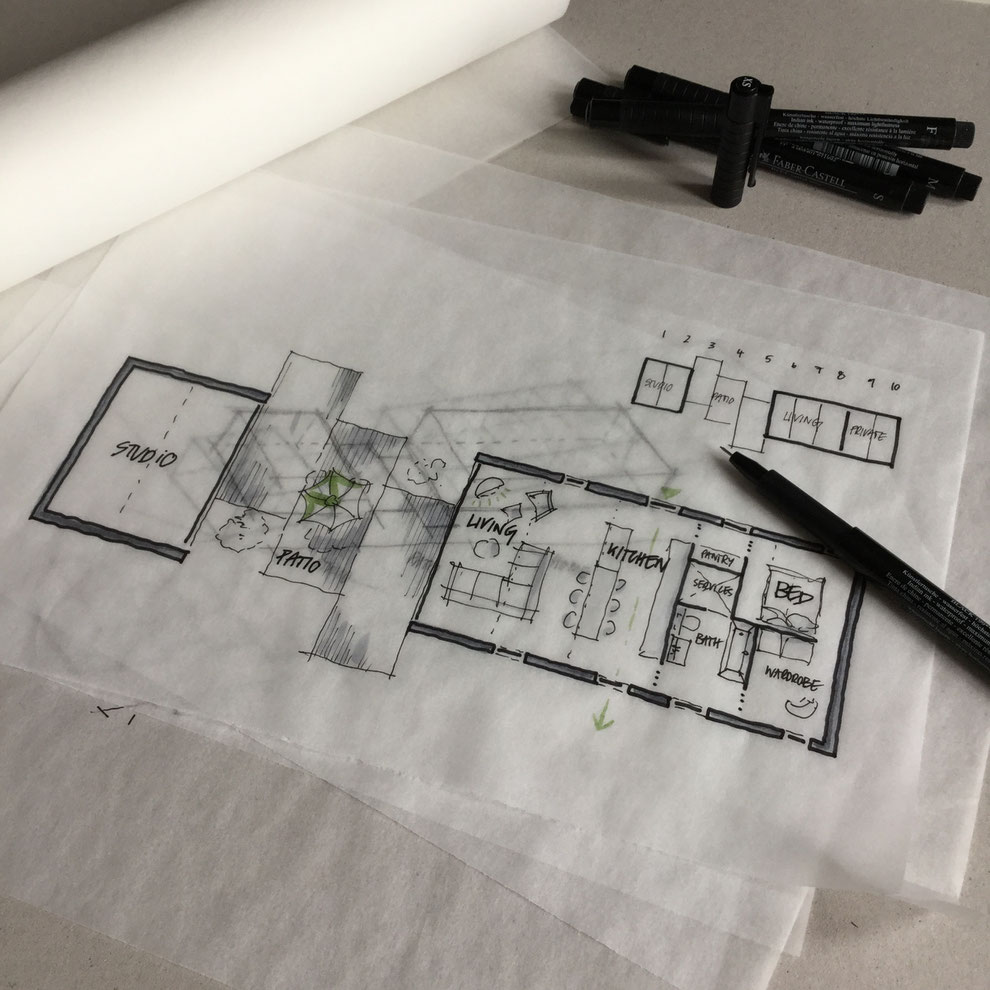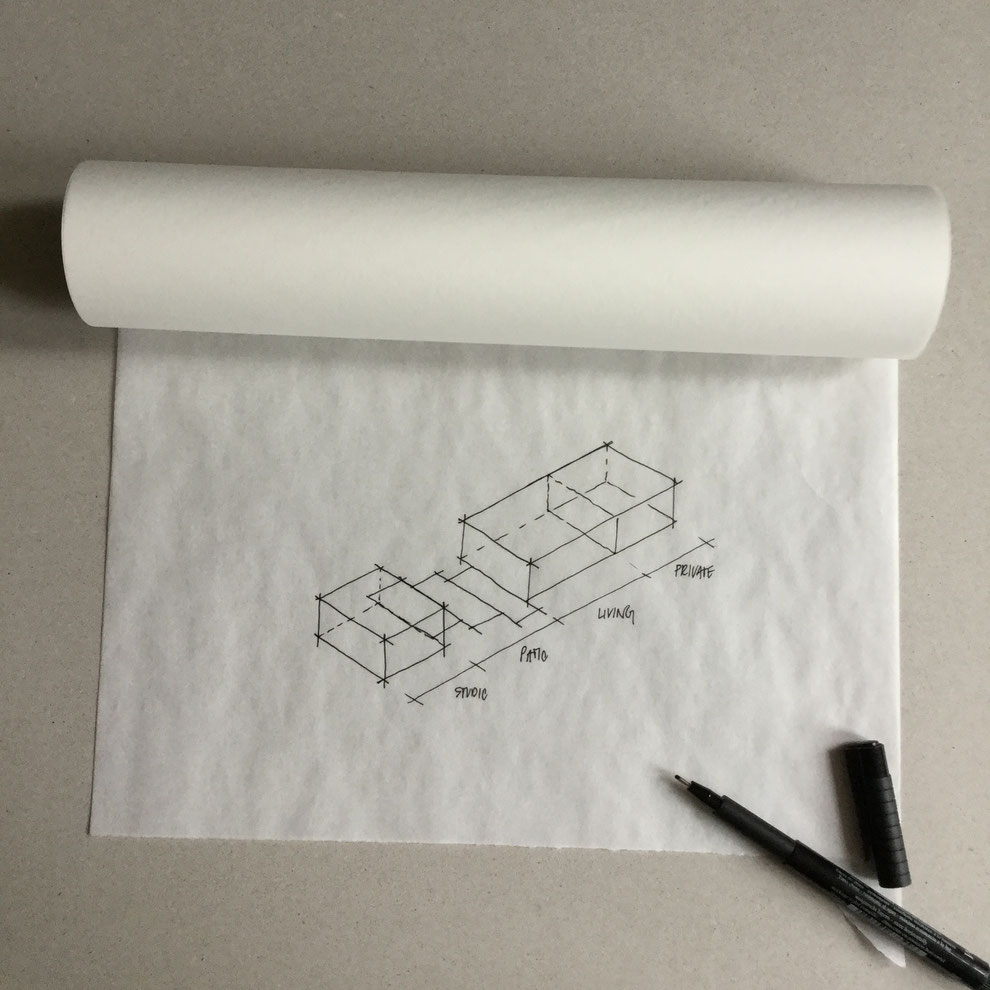 Adding a garden room is a great addition to a very efficient and small footprint home and I just love the idea of having some additional space to get creative or to have extra storage as well as workshop. I mean where else would you build the reclaimed DIY wood deckchair DIY. It could also be a reading room, 'she shed' or artist studio which is very well connected to the main building. As the patio facing walls of both buildings are glazed you have good line of sight from the studio to the open plan living room of the house. The private areas have been allocated away from the entertainment spaces of the home. There is the main bedroom with walk-in wardrobe, the bathroom and a pantry related to the kitchen. I quite like the flow of this minimalist design and the great additions you can make to your living space outdoors.  
Of course this is just another design draft but I think a very viable one which should be ready to be adjusted to your liking for your new home or self building project. 
All the best,
Heidi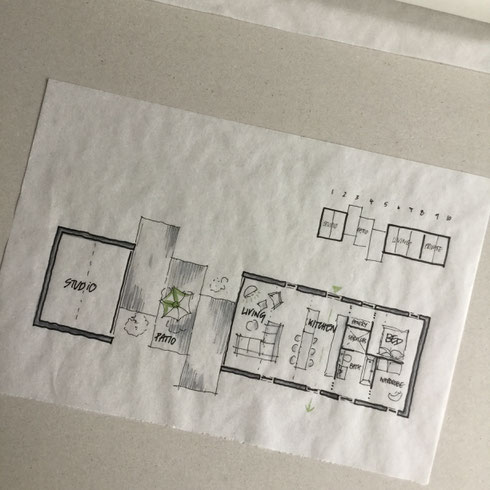 ---
This could interest you too ....
---
---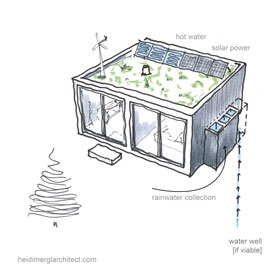 ---