Autumn and Winter are most likely the best seasons to get crafty. Nature provides so much to be creative with and one is very likely to find the time, since it is dark early and once spends less time outside. Even more so during Covid but let's not dwell on it or its lockdowns but on how to spend the time well and make our home even more beautiful with these 10 plus pine cone crafty decor, dare I say it - feeling 'Christmassy' - ideas.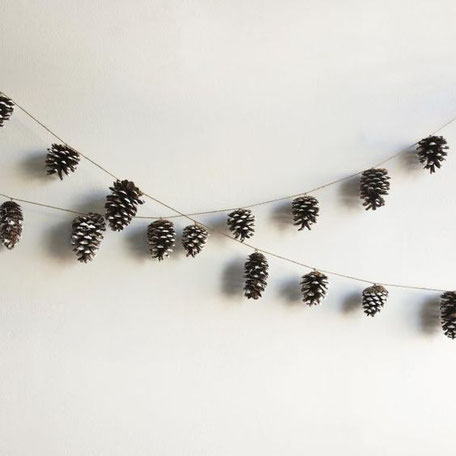 A more sophisticated alternative to the garland could be the option to the right with added flowers hung to dry and maybe some fairy lights. It does not need to be a stick, it could be a on a ribbon in a window or on a piping rod.
First up is the most simplistic yet very effective, may I say striking garland. Creating your own pinecone garland makes a wonderful Christmas decoration and it could even provide some wonderful fun for the kids. Keep them as nature created them or paint them to fit your decoration.
Detailed DIY instructions can you find here 
The festive season is also most famous for their wreaths, right? Therefore a pine cone wreath should not be amiss as an idea. A simplified or better the baseline for a pine cone DIY can you find here but a wire cloth hanger formed to a loop and some wire to attach the cones is all what is needed. Others even use a glue gun and a card board ring for indoor wreaths.
Little tip before you start with any pine cone display inside the house - if the pine cones are freshly collected make sure you kill the bugs first by baking the pine cones by about 200 degrees for about 45 to 75 minutes. This will also dry and open them up very nicely. 
Well, a bit more elaborate is the pine cone Christmas tree, example shown on the right above. Of course one can create a big tree out of serval cones best fixed with glue gun but these are so cute I had include them. Click the image for the DIY but I think you get the idea and with a glue gun, cones and some decoration left overs at hand you will find your creativity will simply flow. 
One idea I did not think off is using them as easily created natural air freshener! By doing this one yourself you can use your favourite essential oil and adjust the strength as needed. Fragrant the pine cones by simply spraying them in a zip or freezer bag. Close it for a day to allow the cones to take on the scent. Once done place them as you see fit, simply in a bowl or open jar. Larger ones are perfect on their own on a sideboard or window sill but you could also place them in your flower pots. Those will at the same time limit the opportunities for digging pets. 
But you could also use them in potpourris for yourself or maybe give one mix as a gift, stocking stuffer perhaps? The image above to the right is linked to the original post where 6 Christmas potpourri in a jar recipes are offered.  
But let's not forget - they make just fabulous ornaments! Keep them as they are and bundle them up with some greens or decorate them to your liking. Of course below are just two ideas to inspire ...
Even more intriguing is the second idea in the picture row below. As you may know I am into plants quite a bit, I mean look at pasinga.com or my posts here. Anyhow, mixing succulents or Air Plants with the pine cones in a jar, how easily fabulous is that?!?
Also, a favourite and completely in a different style direction is the tin up-cycle project. I mean this is self explaining but just one tip from my side would be to have just a few twigs stand tall, place a sponge / floral foam inside the tin and then add the fir and cone, loads of decor. 
And last but not least - let the pine cones float! This is actually one of my DIY's. I posted it first last year but find it still fun and somehow on trend that it would be a shame not to include it here. After all it is a step by step guide and you don't need special moulds but go for up-cycling. Everything else of course over here on my PASiNGA page 'concrete tutorial floating pine cones' - but don't worry it truly is a super easily created talking point for the holidays! 
I think that's a wrap! This should be something of about 10 plus pine cone styling DIY Christmas projects and decoration ideas. We will be going for floating pine cones and pine cones in a jar with succulents as well as evergreens this year. I know it's just the simple things but they have to do the trick. I hope for cosy with little effort - with our baby boy being just 4 months is not much time left for such things but after all it's baby's first ever Christmas!! 
I hope you found some inspiration, I would be overjoyed to find an email or comment below.
Warm wishes and a wonderful first Advent Sunday, 
Antje
---
---